Good Vibes
How To Spend A Rainy Day on St. John
Dec 13, 2019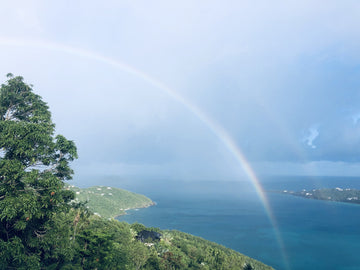 What To Do If The Weather Report Calls For Rain?:
Seeing a rainy forecast during your vacation can be discouraging, but don't let it get you down! Keep in mind that scattered showers in the Caribbean could last a short minute or two.  Upon occasion we do experience times where showers can last on and off all day, so it's good to be aware of some enjoyable outings to reference for those times!
What To Pack For Tropical Weather:
Be prepared for scattered showers, bring a travel umbrella and/or a light weight rain coat.  It's pretty warm year round so sandals are good to wear for rain, sun, and sand.  Rubber or some sort of easy dry material is best.  A weather proof bag, for unpredictable conditions, can come in handy too!
Fun Activities:
A safari tour around beautiful St. John is a fabulous excursion and a perfect means to learn about the island, the ruins and the Island's history. Most safari's do have rain flaps to protect passengers from the rain, but allows guests to still enjoy an open air ride while getting to know the island! 
Spend the day duty free shopping at Mongoose Junction and Wharfside Village, and grab a fabulous lunch at one of the multitude of offerings in each!
Mongoose Junction is the perfect place for those looking to shop and enjoy a few libations, as they offer different types of tastings at multiple different restaurants. Check out Bajo El Sol  for rum tastings (also a Vibe favorite morning coffee stop) in a fabulous art bar atmosphere, surrounded by beautiful offerings from local artisans including Avelino Samuel, Amy Trayser, Lisa Etre and Steve Simonsen among many others! 
The Tap Room  offers flights of their locally-crafted brews and also offer take away 32 oz crowlers with the beer of your choice! Their brewtique downstairs is a must stop if you're a fan: it offers take home options and merchandise as well!
Tequila lovers will fall for a wall of tequilas available for tasting at Greengo's Cantina-- their house made variations are must try!
Northshore Deli  is the perfect spot for those looking for a more laid back day; offering delicious sandwiches and salads in a cozy atmosphere with an outdoor eating option as well!
Irie Pops, located in the heart of Cruz Bay, features locally handmade yummy ice pops (instagram: @iriepopsvi) and is the perfect spot for a photo opportunity on their adorable swing!
In Wharfside Village, grab a bite to eat and a cocktail at High Tide. This is the ideal covered spot to watch Mother Nature work her magic along the shoreline!
Turquoise Turtle is a great little boutique to pick up St. John inspired creations and adorable outfits! 
A classic stop for most St John Lovers is located right off the ferry dock and is St. John Spice, a longtime island fixture that offers original tea and spice blends along with other unique island crafts!
Vibe Jewelry offers beautiful hand-crafted and locally designed jewelry inspired by St. John! A hook bracelet is one of the best ways to commemorate your trip in the Caribbean and is the perfect way to treat yourself on a rainy day! Check out the two Vibe locations: one behind High Tide restaurant in Wharfside Village or at our Mongoose Location located upstairs behind Greengo's bar! 
How to Pamper Yourself During Rainy Weather:
Treat yourself to a luxurious experience at  VI Body Spa. Located a short walk from the Westin at Palm Plaza (across from St. John market), the VI Body Spa offers a multitude of options with massage, facial and nail treatments to create the ultimate relaxing rainy day!
 Do People Swim In The Rain?
We sure do!  The Virgin Islands has what's known as "sun showers", the rainfall never really lasts for long and it can be a magical experience swimming in the rain.  If you have snorkel gear, check out the fascinating underwater world.  A waterproof beach bag can be used to secure your clothes, towel, etc. securely on the beach while you enjoy the ocean.
In Conclusion:
For wet weather on St. John, you can make the most of it by being prepared with the right gear, jumping in the ocean with the fish, treating yourself to some shopping, or self pampering!
We would love to hear from you below.  How do you spend rainy days on St. John?