Good Vibes
How To Help Save The Endangered Reefs
Nov 06, 2019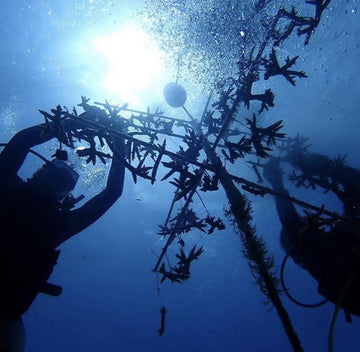 How To Help Save The Endangered Reefs
Over the years visitors have enjoyed the vibrant colors and textures of the US Virgin Islands stunning Caribbean reefs. Snorkeling and scuba diving are the most popular ways to explore this majestic underwater world. Sadly, coral reefs of the Virgin Islands, and all over the world, have become endangered. Luckily it's not too late to help them grow back and become restored!
Corals Are Animals
That's right...animals! Coral reefs are made up of thousands of tiny colonial animal colonies called coral polyps. They are living organisms and do not make their own food like plants, instead they rely on sunlight and nutrients extracted from the sea to survive.  Because they are alive and rely on unpolluted water, we can help keep the ocean clean by using sunscreens that are environmentally friendly.
Why Is Sunblock Harmful To Coral?
Many sunblocks contain toxic chemicals, such as oxybenzone & octinoxate, that cause "bleaching" amongst the reef, leading to coral die off. The good news is there are many products available that offer SPF and are safer for coral as well as humans. 
Let's Talk About Skin!
Skin is our largest organ, so remember when applying sunblock your body is absorbing it straight into your system. Saying yes to products that are safer for you and the environment is a win/win!
Sun Protection
The USVI is located close to the equator, so sunblock is an essential mainstay year round.  Wearing sunscreen is important to safeguard skin from burns and damage, protect yourself and the reef by choosing a product free of oxybenzone & octinoxate.  Wearing SPF clothing is another great non-toxic way to shield yourself from the powerful rays of the sun. If you are on St. John and didn't bring your reef friendly SPF product and sun protection clothing, not to worry! You can find these items on island. 
University Of The Virgin Islands Is Restoring Reefs!
UVI is actually growing corals as we speak!  Vibe has partnered with the University of the Virgin Islands by adopting their very own Vibe Coral Tree. Proceeds from the sales of the Vibe Ocean Reef Collection go directly to helping fund their restoration project to out-plant the corals onto local reefs. To learn more about what the lovely folks at UVI are doing and/or donate directly to them, or to shop our Ocean Reef Collection:
https://vibecollection.com/collections/ocean-reef-collection
In Conclusion 
Sunblock ingredients directly affect the environment as well as our physical bodies.  Support the ecosystem of the living coral reef by using a safe SPF product and/or SPF clothing. Whether you choose to lather up, dress up or both…get out there, make a splash and enjoy the beauty of the VI!
We would love to hear from you below, what is your favorite reef safe sunscreen?