Visit Our Flagship Stores
Visit our stores on St. John, US Virgin Islands and experience the warmth and hospitality of the Caribbean. Our friendly team is here to help you find the perfect piece and offer styling advice. Come see why Vibe Jewelry is rated the #1 shopping destination on St. John by TripAdvisor!
Our Stores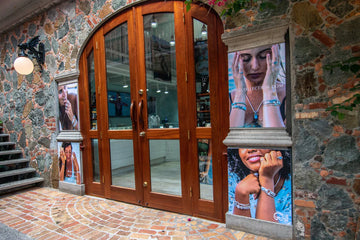 Vibe Jewelry - Mongoose Junction
Address
Mongoose Junction, St John 00830
US Virgin Islands
Get Directions
We're Open!
Our Mongoose Junction store is open every day
from 9 AM to 8:30 PM
About
Situated at the head of the North Shore Road in Cruz Bay, Mongoose Junction is one of St. John's premiere shopping and dining destinations. From its beautiful stone walls and shaded open-air walkways, to its luscious greenery, the shopping center has been shaped and inspired by the natural beauty of the Caribbean.

Our lovely store is no exception! Light, airy, and welcoming, we aim to provide a truly relaxing shopping experience to all. Our friendly staff is always happy to explain the deep history and meaning behind our designs, and assist you in finding the perfect piece to suit your unique style and personality.
Vibe Jewelry - Wharfside Landing
Address
Wharfside Landing #5,St John 00831, US Virgin Islands
Get Directions
We're Open!
Our Wharfside Landing store is open every day
9 AM to 9 PM
About
Just steps from the Cruz Bay Ferry Dock, Wharfside Landing is a charming shopping center featuring picturesque streets lined with brightly colored shops, restaurants, and buildings that embody the Caribbean's rich culture and history.

Our second store is designed to be equally open and inviting, with bright natural light and carefully curated displays showcasing our handcrafted island inspired jewelry. Let our knowledgeable team assist you in finding the perfect piece to complement your personal style and capture your unique story.