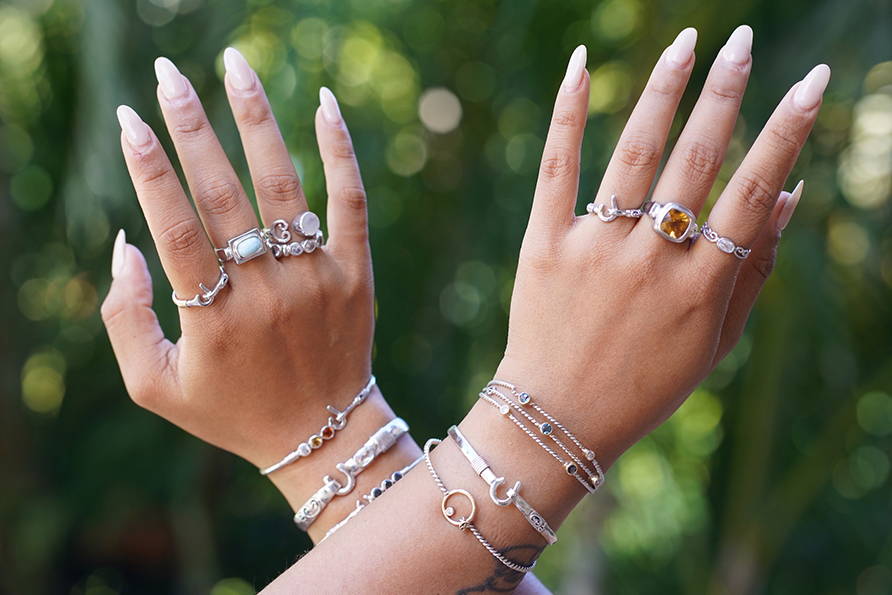 How to Care for Sterling Silver
Sterling silver catches the light like no other metal! Keep your sterling silver jewelry bright and shiny with our Jewelry Care 101 guide!
Sterling silver, like any other metal, requires the right care to keep it looking brand new. After purchasing a sterling silver piece of jewelry, it is important to understand how to maintain the quality if you want the piece to last a lifetime! The jewelers at Vibe Jewelry have put together a guide to answer all of your questions about taking care of your sterling silver. From day-to-day care to repairs, you'll find it here at Vibe!
About Vibe's Sterling Silver Jewelry
Vibe is dedicated to providing high quality and unique sterling silver designs.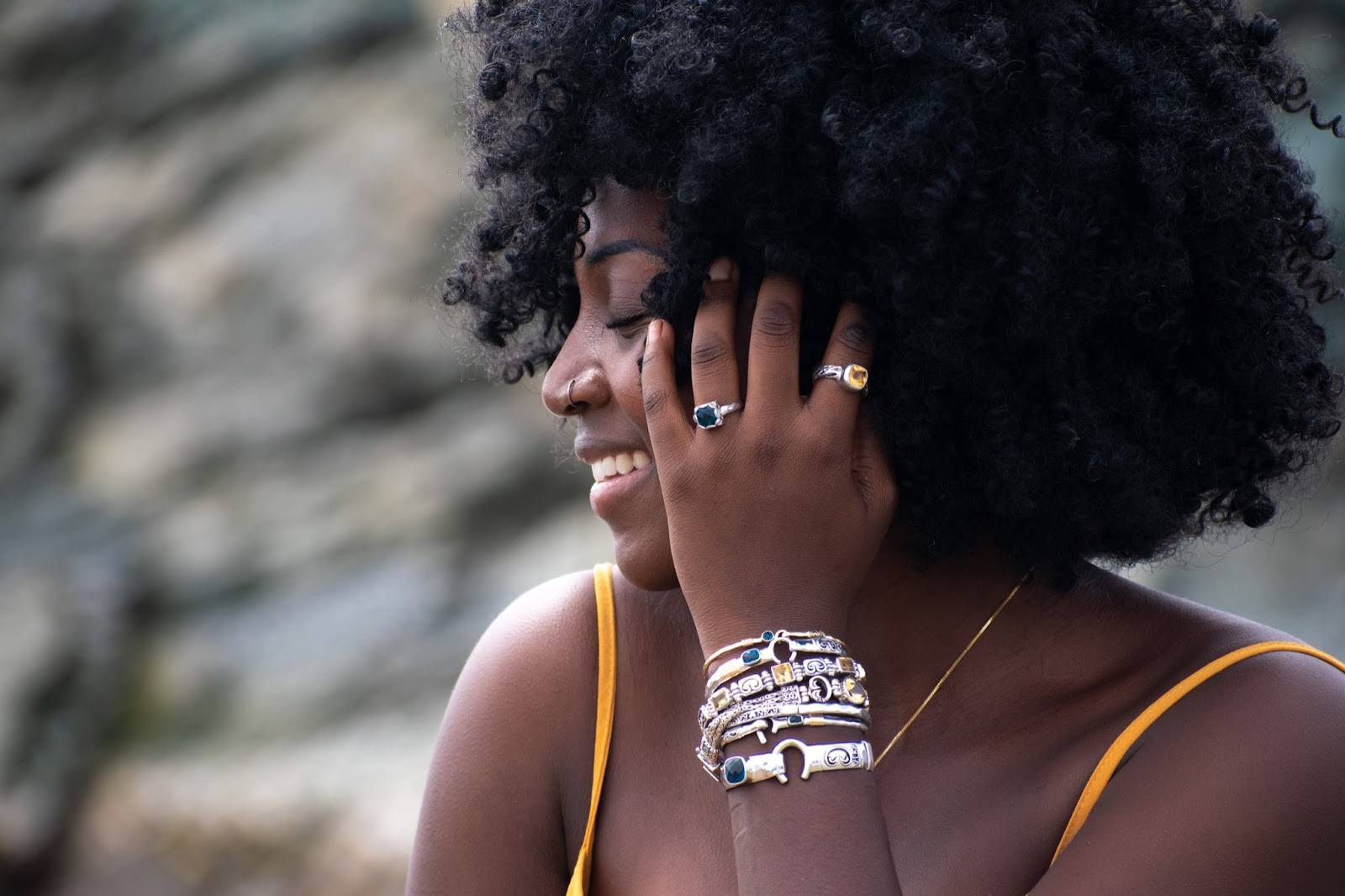 Give your jewelry the best of tender love and care and it will sustain its beauty, and value, as time goes on.
When purchasing a sterling silver piece from Vibe Jewelry, we hope you will feel confident about the quality and thoughtfulness that goes into hand making each piece. Vibe uses .925 sterling silver in all of their products. This means that the piece contains 92.5% sterling silver and since a piece can never be 100% sterling silver, the rest is made from alloys which are used to increase durability.
Vibe's sterling silver jewelry is also finished off with rhodium. Rhodium is one of the rarest and most expensive precious metals. We like to say it is the Cadillac of silver! It is more valuable than platinum and even gold! Having a rhodium coating on our sterling silver pieces gives a high luster and helps the jewelry remain tarnish-free for a longer period of time.
Pirate and Marine Textured Styles
Keep the oxidized look on your Vibe jewelry with these tips and tricks.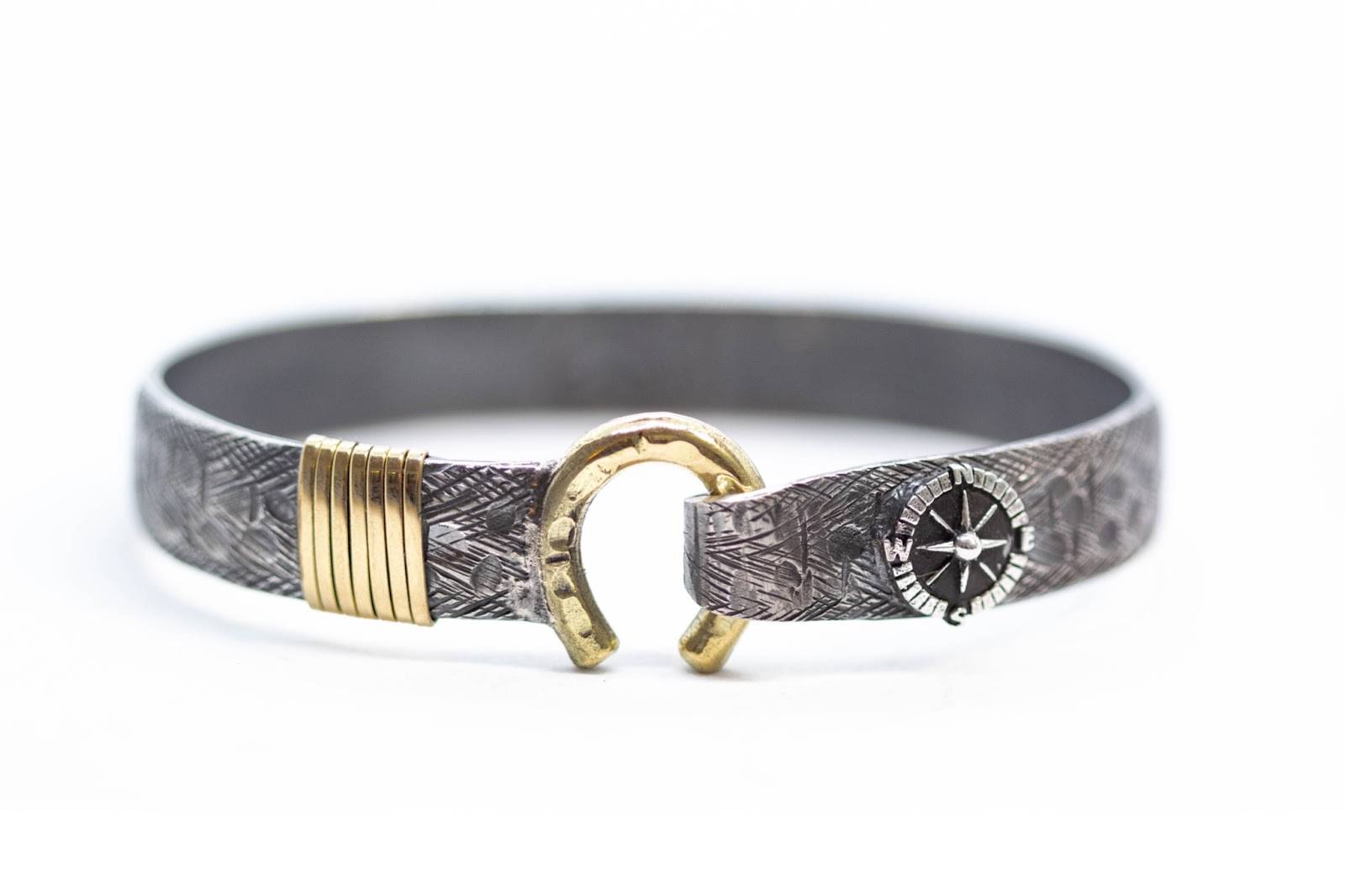 Marine Texture is in honor of our Soldiers of the Sea! Don't worry about the dings, nicks or dents anymore! This is the perfect texture for those who never want to take their jewelry off and requires little to no maintenance.
Pirate Texture is designed to give your jewelry a weathered look after a long day of sailing the Caribbean Seas. This texture is perfect for men and women who don't want to worry about polishing their piece.
Vibe creates an exclusive line that features an oxidized look. These jewelry pieces are called "pirate" or "marine" textured. While they are still made with sterling silver, it is important to note that they are not finished off with rhodium. This is to ensure the darker tone.
With this being said, pirate and marine textures jewelry should be treated differently compared to the other sterling silver styles. There is no need to clean these pieces. However, if you do end up cleaning them the same way and lose the oxidized look, there is a trick to quickly get it back!
Add two raw eggs into a ziplock bag, put the piece inside and shake it around for a couple of minutes until you can see it getting darker. Finally, take the piece out, rinse it off and pat dry.
Continue reading to learn more on how to keep our sterling silver pieces clean and looking brand new!
Keep the luster and prevent your Vibe Jewelry pieces from tarnishing!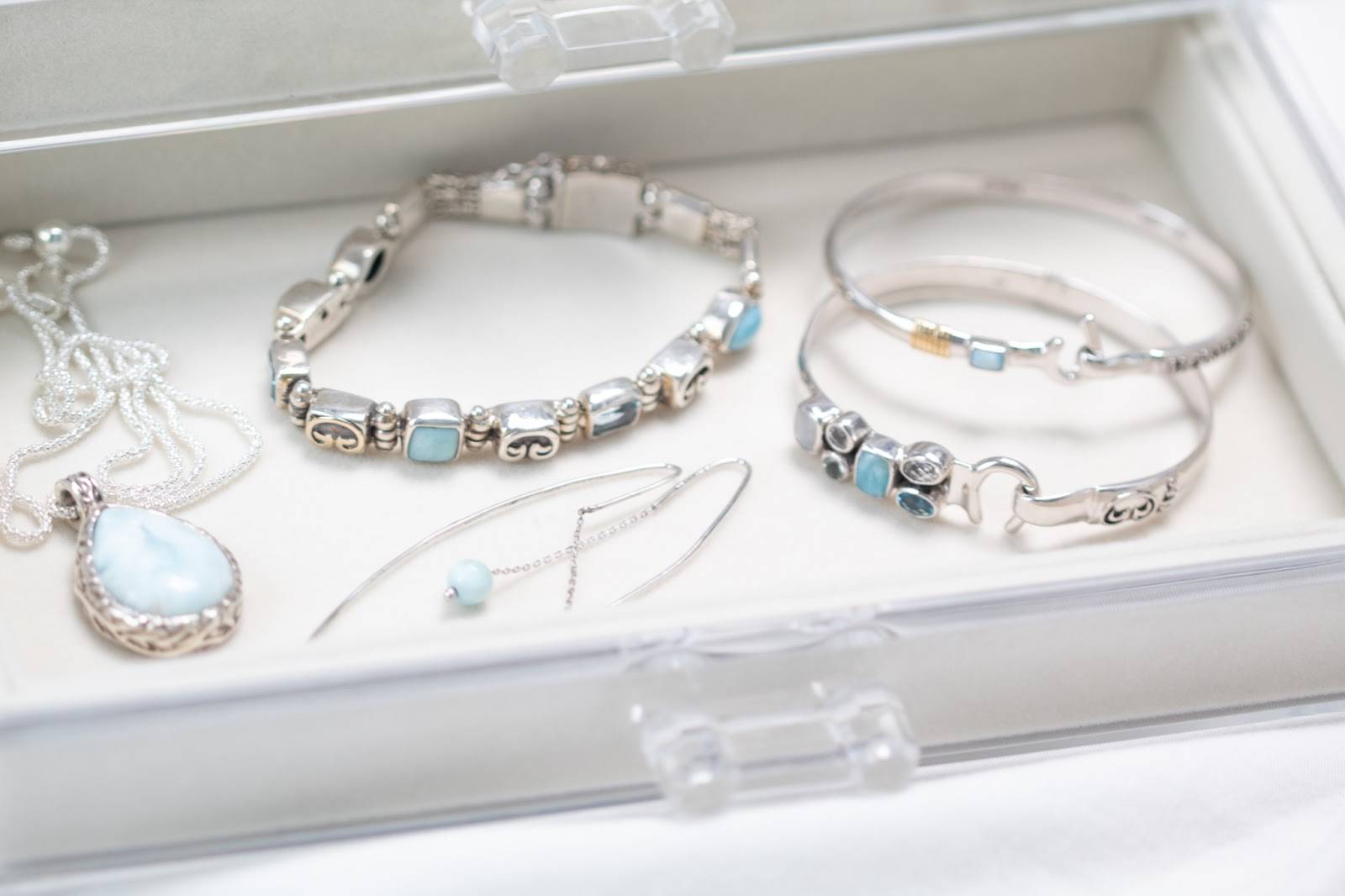 Keep your Vibe collection somewhere safe and dry to keep their luster.
Tarnish is the thin layer of corrosion that appears when the surface of sterling silver experiences a chemical reaction. As a result, silver then looks dull and gray. Tarnishing is most often due to oxygen, pollution in the air, moisture and dust.
While liquid solutions can be useful at times, for your everyday care of your sterling silver jewelry, keep it simple. A soft toothbrush and some soap is all you need! Using a mild toothpaste also does the trick!
Gently scrub your pieces, getting into crevices and underneath stones, and finish by rinsing with fresh water. Refrain from using commercial harsh cleaners, as they may damage stones and cause unnecessary wear on the metal.
To avoid tarnish, we recommend you store your Vibe Jewelry pieces in a safe, dry place. Storing sterling silver in a jewelry box or an organza bag will help prevent tarnish.
While you may never want to take your Vibe Jewelry pieces off, we recommend doing so for the following activities:
Swimming in chlorine pools or hot tubs

– Chlorine can cause a reaction with sterling silver and cause the piece to tarnish.

Using sunscreen or any lotions with chemicals

– We recommend waiting to put your pieces on until the sunscreen or lotion has dried and soaked in your skin.

Exercising at the gym or sweating profusely

– We recommend storing your sterling silver pieces in an organza bag for safe keeping while you're at the gym.
long Term Sterling Silver Care
Have your sterling silver collection last a lifetime with the right care!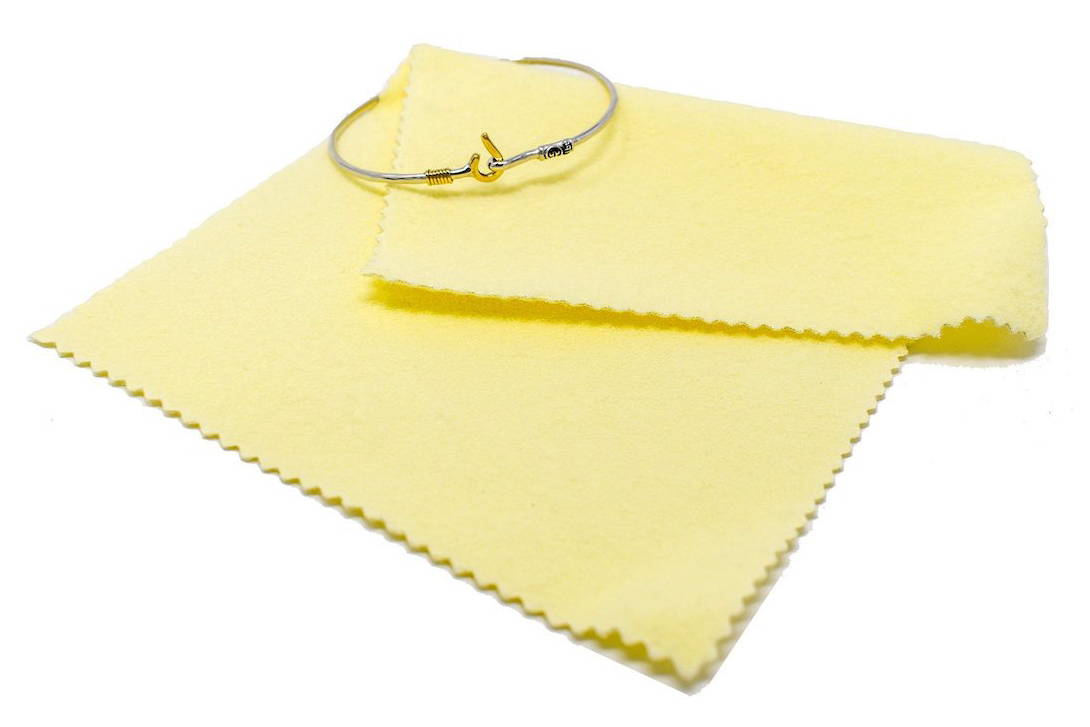 With proper care, you can preserve the beauty of your Vibe Jewelry for years to come.
While the day-to-day tips above will also help your sterling silver jewelry last a lifetime, there are a few more things you can do! All Vibe Jewelry products comes with a complimentary polishing cloth. We recommend using this cloth as often as possible to keep your jewelry tarnish free!
If you wish to go a step further in cleaning your sterling silver, we recommend periodically using this quick cleaning method: combine ½ cup of white vinegar and 2 tbsp of baking soda. Next, let your jewelry soak in the mixture for 2 hours. Finally, rinse the jewelry off and pat dry.
Looking for more help? Stop in one of our stores to have your Vibe Jewelry pieces polished! If you do not live on the island, no worries, just send us your Vibe Jewelry products in the mail and we will polish it for free! If you are interested in sending your piece in, send us an email at help@vibecollection.com.
Here at Vibe, we are all about keeping our customers happy, and we hope our warranty program does just that!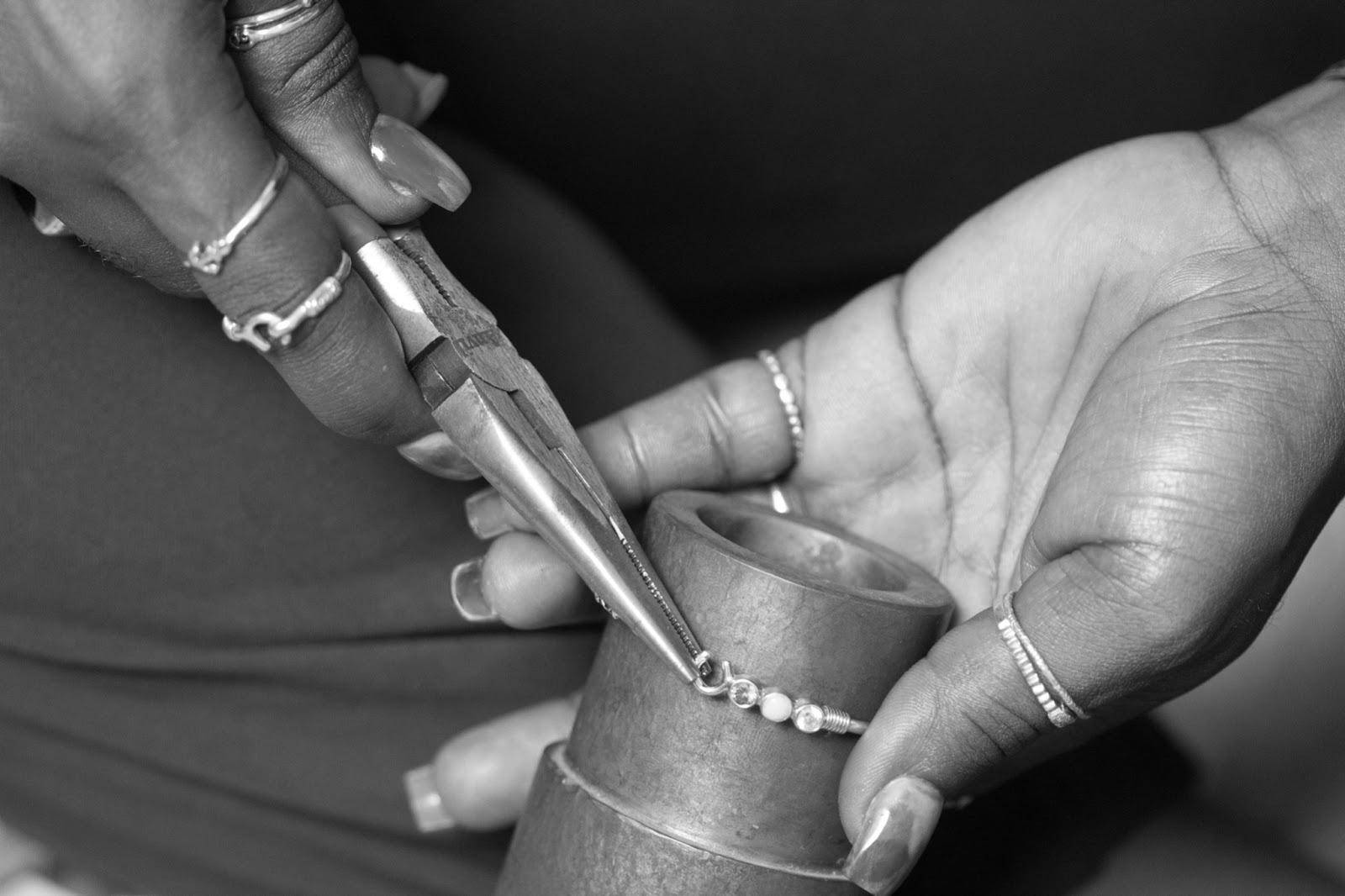 No matter when you bought it, we will repair or replace any Vibe piece that is broken.
When you purchase a piece of jewelry with Vibe, we include an automatic warranty that includes free repairs. No matter when you bought it, we will repair it for you!
If you are on the island, all you have to do is bring it into one of our stores. However, if you do not live on the island, just fill out this form and follow the instructions to get your broken piece out to us.
When we do repairs, your piece will also be quality checked, cleaned, and polished. This process can take up to 12 weeks. Also, if we have the same piece in stock, another option we offer is to replace the piece for a brand new one. However, we understand that pieces hold a sentimental value, so we do recommend getting the piece repaired in this instance.
Since 2004, Vibe has maintained outstanding customer care and has stood behind their warranty. With proper care, you can preserve the beauty of your Vibe Collection for years to come!
"Customer Service is a 10!"
"Amazing customer service! Came in to look and buy a new bracelet - the sales associate was extremely attentive and paid attention to the style I was looking for instead of just pulling out "best sellers." Had a bracelet that needed repairing and the team was VERY helpful in providing a replacement - Will only purchase jewelry at Vibe while in St. John."
- Lorri H.
"Amazing, quality jewelry"
"I purchased a ring from Vibe in their beautiful store in March 2020. I hit my hand and lost the stone of my ring. I reached out to Vibe over a year and a half later without a receipt and they were able to look up my purchase and guide me through the process of sending my ring back. They responded immediately and guided me every step of the way."
- Lauren L.
"For more than 15 years I have been collecting & giving beautifully unique gifts from The Vibe jewelry. Just recently I had a blue topaz fall out of my signature bracelet. I sent the bracelet back along with another I had bought to get resized. All were repaired & promptly returned at no charge. What great customer service! Thank you!"
- Jenny W.
Vibe's Best Selling Sterling Silver Jewelry
Keep your sterling silver looking brand new by keeping this guide in mind. Take good care of your Vibe Jewelry so you can pass it down to your loved ones. Keep in mind the following:
Keep your Vibe piece from tarnishing by knowing when to keep it on and take it off.
Use our complimentary polishing cloth to keep your sterling silver piece clean.
Vibe's sterling silver is protected with rhodium, a rare and precious metal.
Vibe Jewelry's warranty offers free repairs!
We at Vibe hope this guide was helpful in taking care of your sterling silver pieces! If you are interested in shopping some of our best selling sterling silver styles, check them out below.