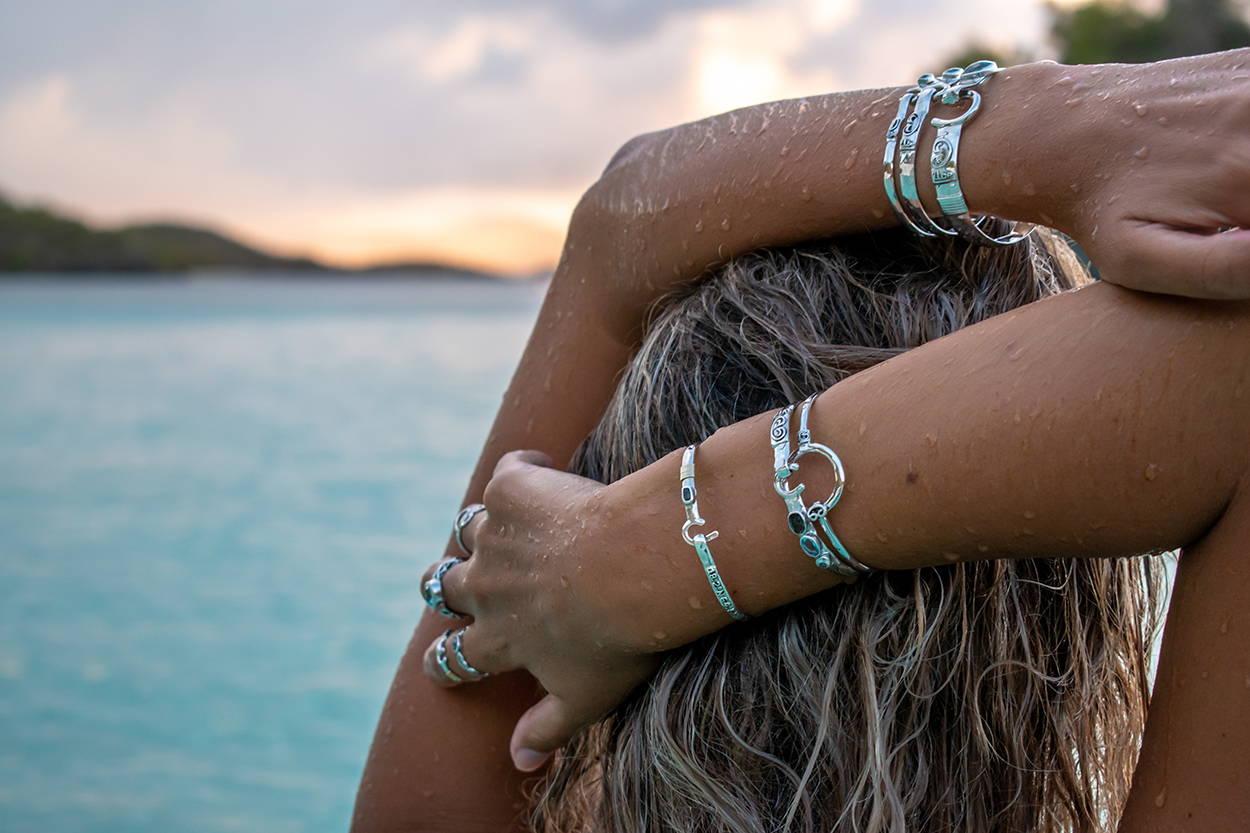 find your perfect bracelet size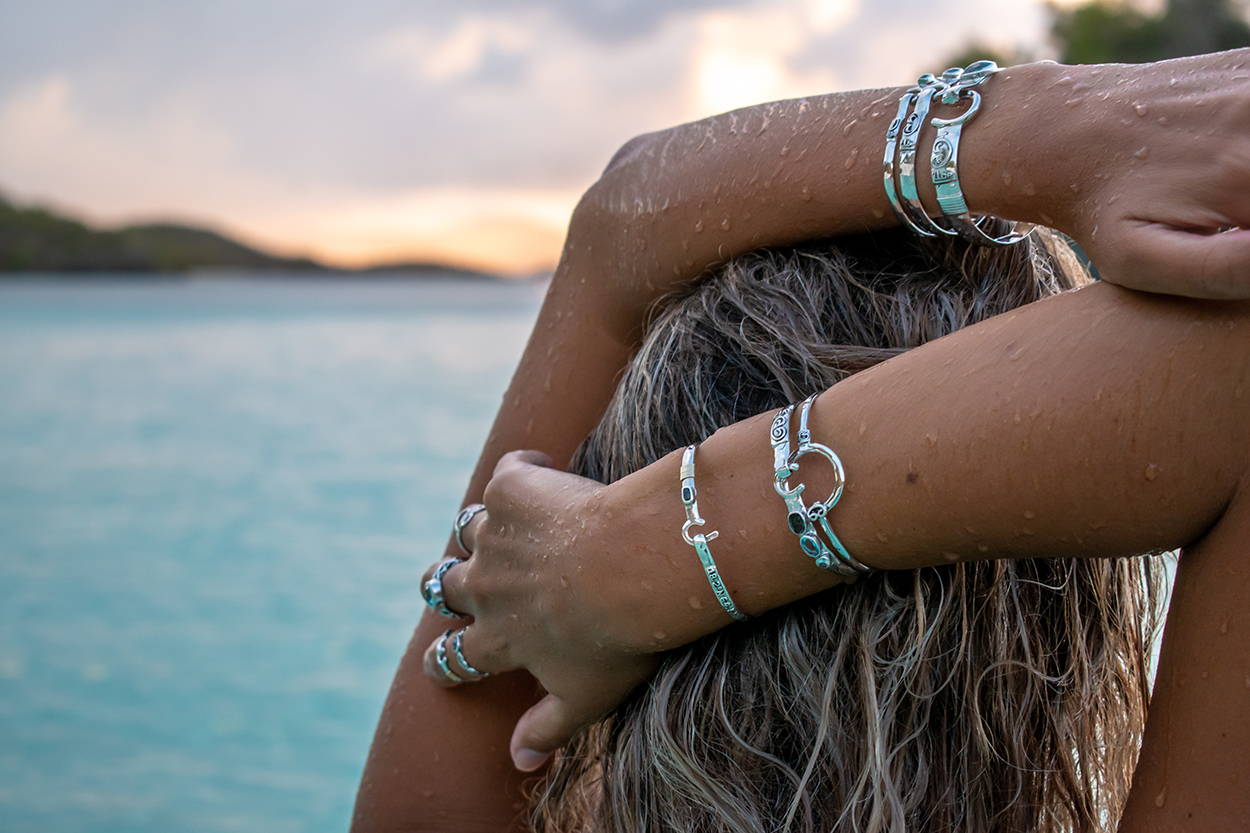 Feel confident when choosing your bracelet size!
While shopping online gives you the luxury of doing it on your own time, it doesn't give you the luxury of trying products on. That's why we're here to help! We want to make sure that when you are looking for Vibe Jewelry bracelets online, you feel confident in the sizes that you choose. The first step in feeling comfortable when picking sizes online is doing your research. Explore our guide below and we'll help you find your perfect Vibe Jewelry bracelet size.
How to Measure Your Wrist
Fit is everything when it comes to fine jewelry!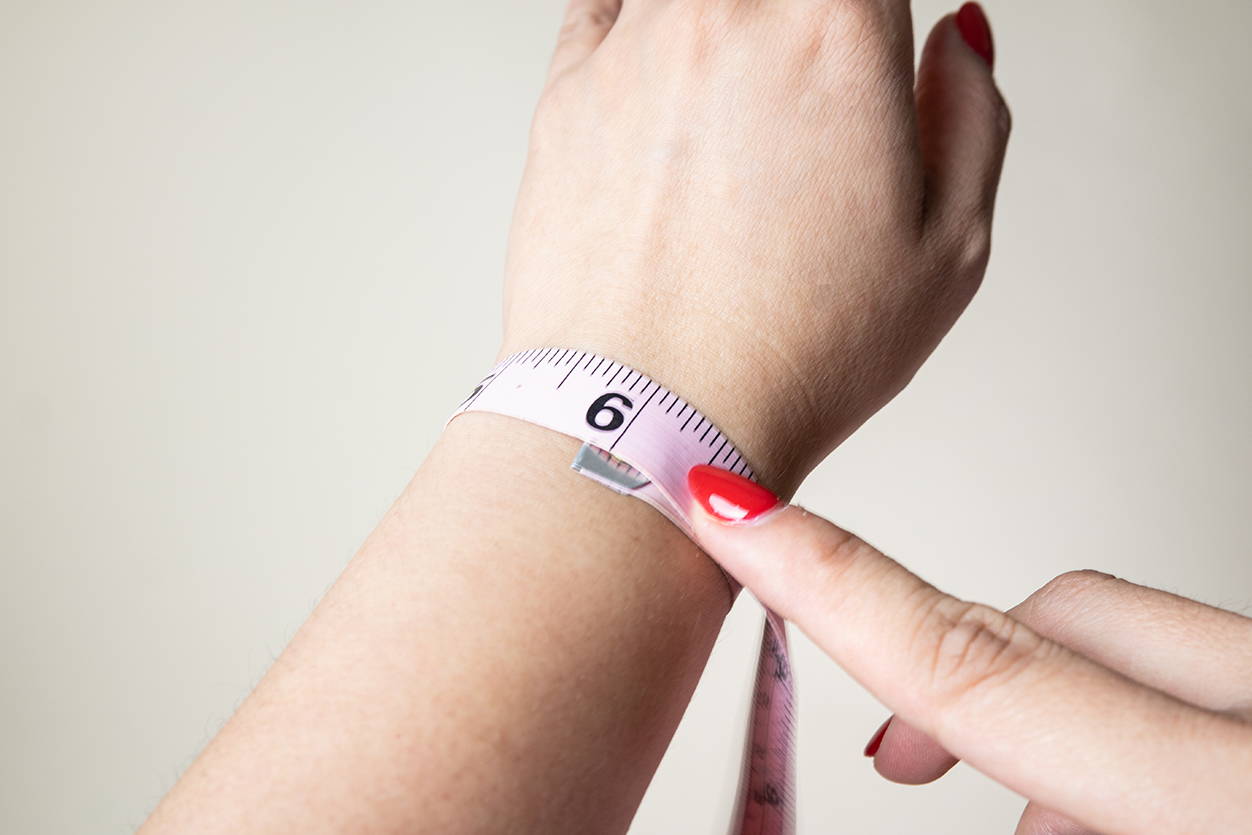 Measure your wrist to discover your perfect size.
Before placing your order for a Vibe Jewelry bracelet, we recommend making sure that the size you choose is the right one. You will notice while shopping on our website that all of our products have the measurements in the description along with a size guide.
The easiest way to measure your wrist is with a measuring tape. If you do not have a measuring tape at home, a quick trick to finding your bracelet size involves using a piece of paper, ruler, and a marker.
First, take a strip of paper and wrap it around your wrist. Make sure that it is sitting right where you would wear your bracelet. Also, keep in mind you want to be able to take your bracelet on and off comfortably. Therefore, the strip of paper should not be too tight or too loose. Next, take a marker and mark the paper where the long end overlaps. Now use your ruler to measure the paper from the top to the mark on the other end. Finally, use the table below to match your measurement with the corresponding bracelet size.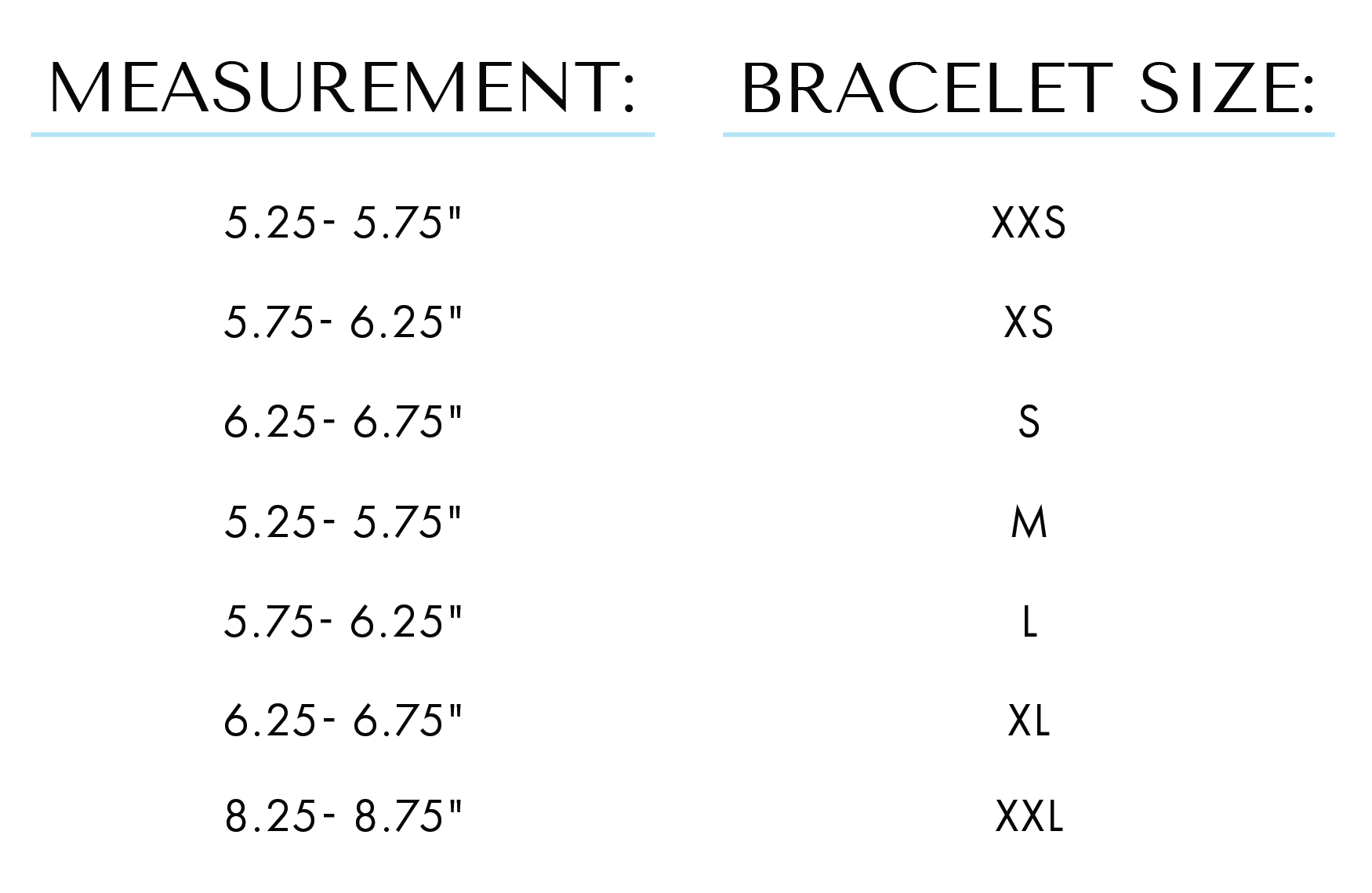 Bangle and Cuff Bracelets
Bangles and cuffs are easy and fun to put on and take off.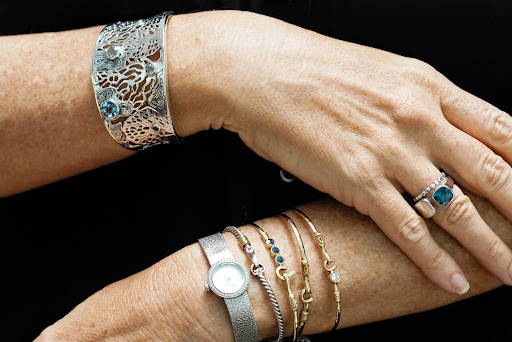 Feel comfortable and confident when choosing your size for bangle and cuff bracelets.
While our size guide above is used for all of the different bracelet types Vibe Jewelry carries, it is important to note the difference in the bracelet types.
For example, cuff bracelets do not have a closing, so this makes them easier to fit and adjust. The metal used is malleable, hence you can gently press on either side to make it tighter and more secured to your wrist. However, make sure to avoid pinching yourself! We recommend wearing a cuff on the opposite side of your dominant hand for the most comfort.
For bangle bracelets, the type of fit is up to you and what feels the most comfortable. Some people like their bangles to be more fitting so they don't slide up and down the arm too much. For others, the jingling and movement of the bangles is what they are looking for! At minimum, we recommend allowing your bangle bracelet to fit one or two fingers underneath. This ensures an easier putting on and off process making getting ready for the day a little more relaxing!
Before hitting the town, be sure to check the safety latch.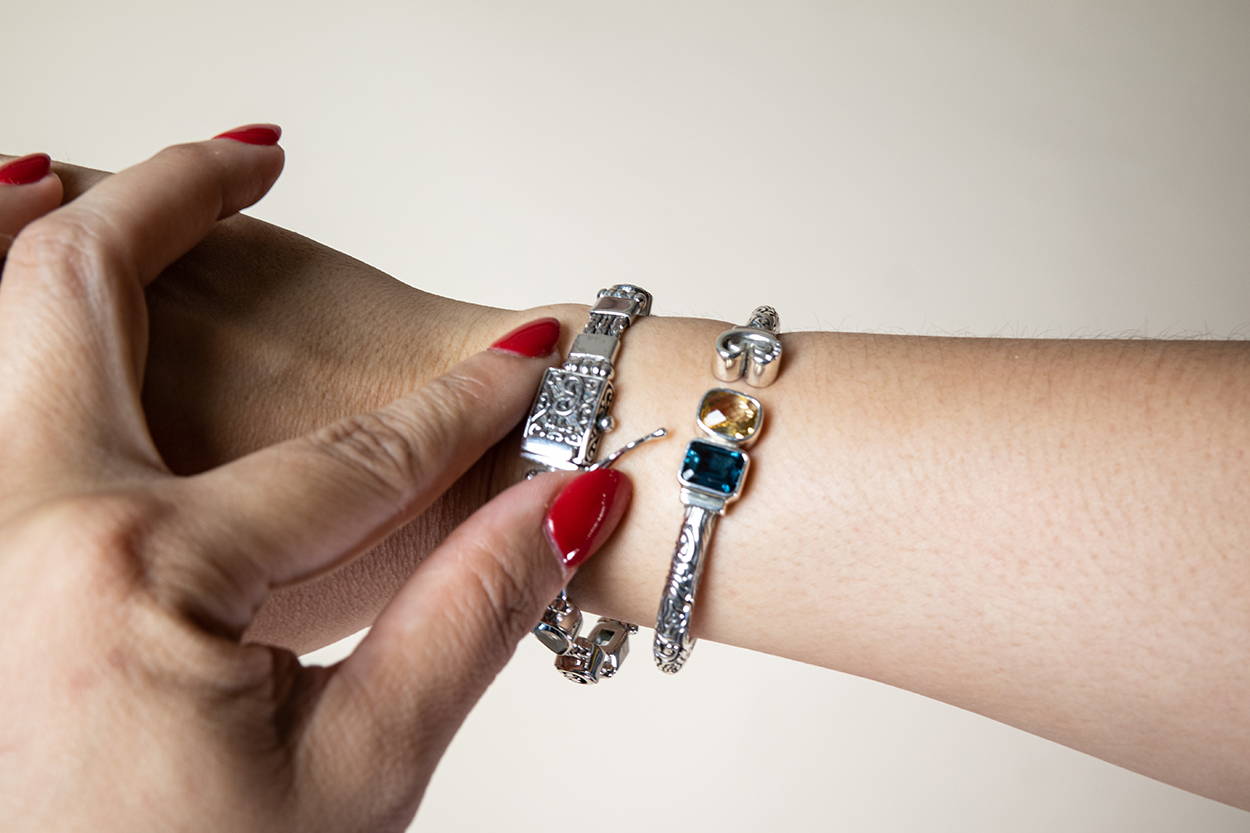 Make sure your link bracelet is secured.
Vibe Jewelry link bracelets are different from the rest as they have a safety latch on the side to secure it once it is closed. Just like your other bracelets, the rule is the same for link bracelets. You should be able to place a finger between the bracelet and your skin. That way it will not be too tight where it cuts off any circulation, nor will it slide too far down your hand.
If you end up purchasing or being gifted a Vibe Jewelry link bracelet that is too loose or too tight, we are happy to fix this for you! Email us at help@vibecollection.com for more information.
Make sure your bracelet fits comfortably.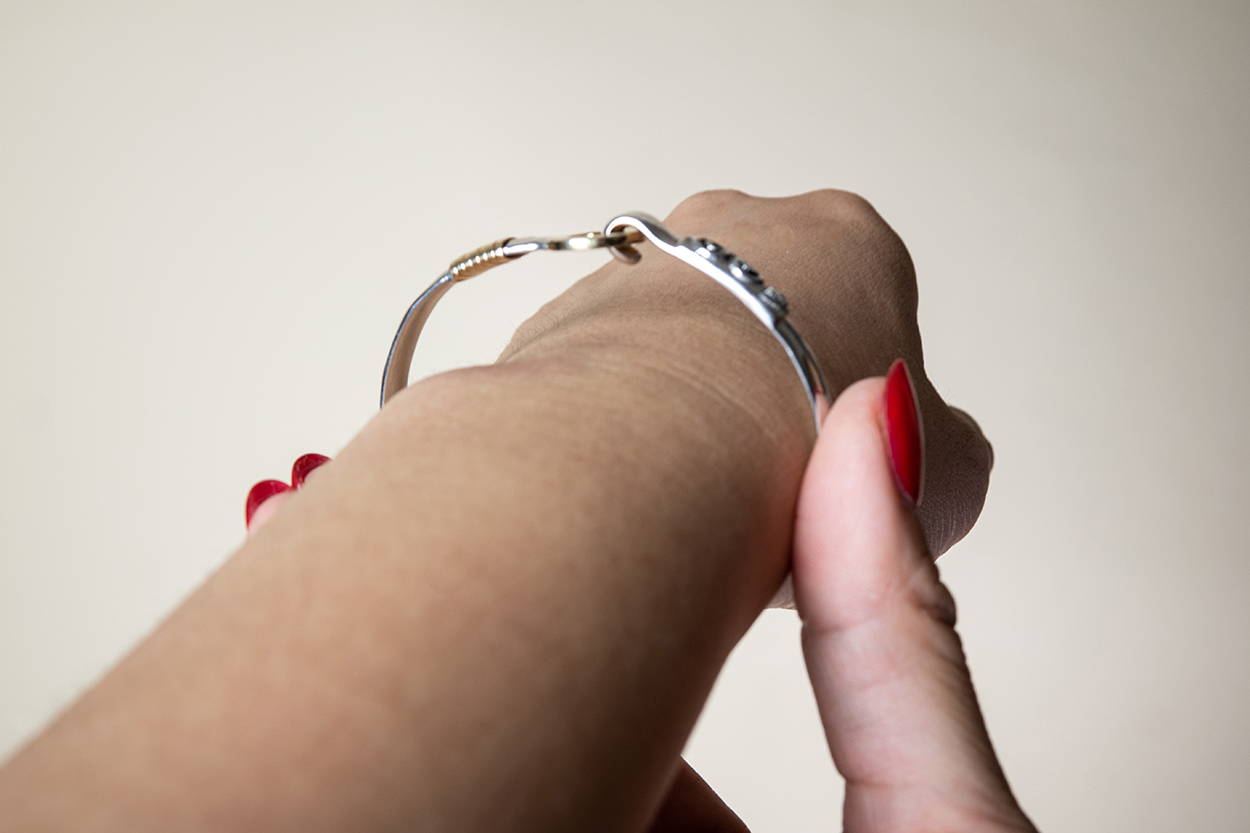 No one wants to flaunt a bracelet that is too big!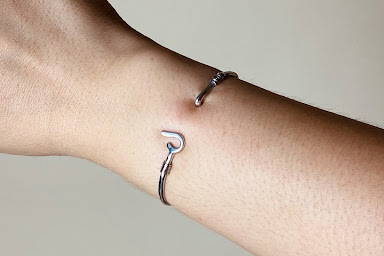 At Vibe we believe comfort and confidence is supported by the right fit.
Wearing anything that is too big or too small can be extremely uncomfortable. You don't want to have to constantly be adjusting your bracelet so that it does not slip off of your wrist, but you also don't want to be struggling every time you put a bracelet on.
Instead, you want the bracelet to easily slip on while also not worrying about it falling off. In order to find this happy medium, we recommend allowing a gap that fits a finger or two between your wrist and the bracelet. This way, you have the best of both worlds and can confidently wear your bracelets throughout the day with ease.
Shop Vibe Jewelry's Best Selling Bracelets
Now that you know your size, treat yourself!
We hope you now feel confident when it comes to picking out your bracelet size online. However, if you still have questions and would like to speak to someone who can advise you on sizing, please contact our customer support team by emailing us at help@vibecollection.com, or sending us a message through our chat box on the home page.
Remember, keep these simple tips in mind when finding your perfect bracelet size:
Find your fit to make your online shopping experience enjoyable
Use our easy trick to measure your wrist and find your perfect fit
Bangles and cuffs can fit differently than other bracelets
Make sure your link bracelets are secured before hitting the town
Reach out for help if your bracelet is too big or too small and our team will gladly assist you
We at Vibe hope this guide was helpful in finding your perfect bracelet size! If you are interested in shopping some of our best selling bracelets, check them out below. Or better yet, come and visit our stores on St. John during your next vacation!